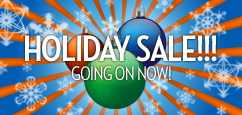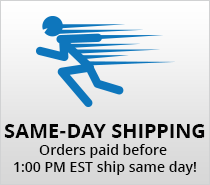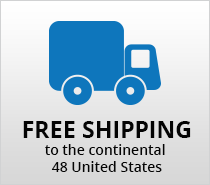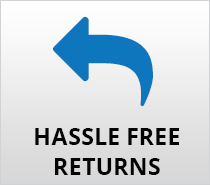 (2) Rockville RSG-12.28 Dual 12? Three-Way 8-Ohm Carpeted Passive Loudspeakers Totaling 4000 Watt Peak/2000 Watt RMS with Three 3" Piezo Bullet Tweeters, Two 12" Woofers, and a 1" High Efficiency Piezo Compression Horn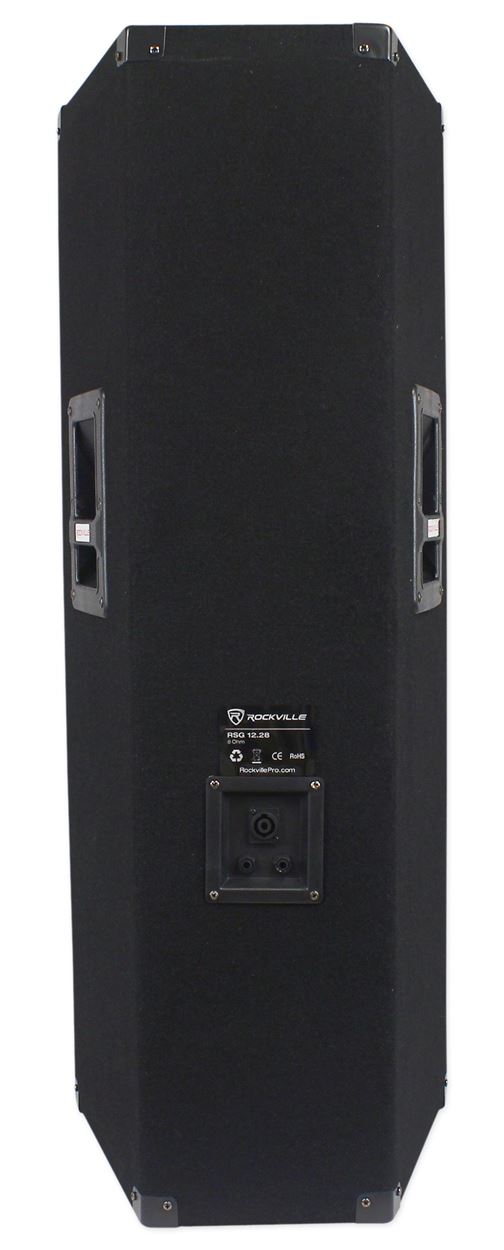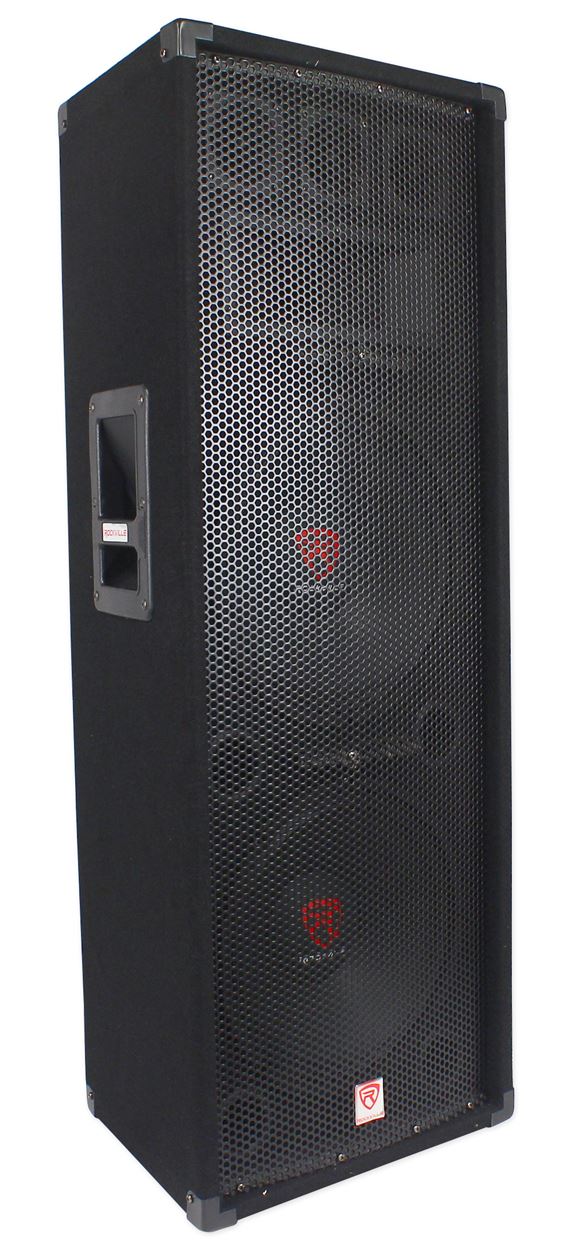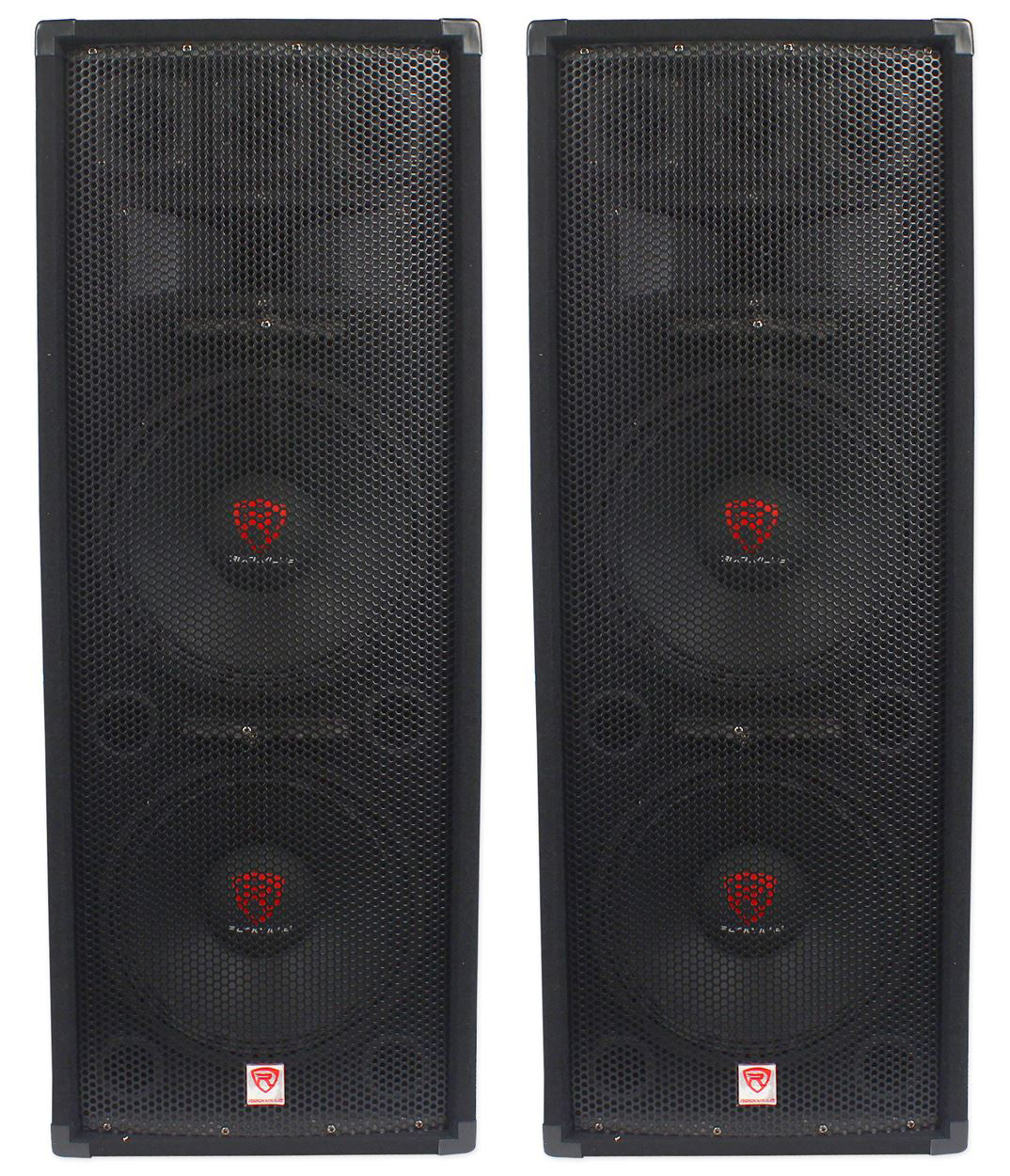 Click Thumbnails to Enlarge
Condition and Warranty
Condition: BRAND NEW IN ORIGINAL PACKAGING
Warranty: 1 YEAR AUDIOSAVINGS
Product Description
(2) Rockville RSG12.28 Dual 12? PA Speakers Totaling 4000 Watts

Video of RSG12.28:
Description:
We are proud to introduce to you the Rockville RSG series of speakers. These are affordable speakers with high-end performance; specially built for DJ's as well as professional audio applications. After conducting strategic market research, Rockville is proud to bring you this new line of speakers that were engineered to combine incredible power handling, superior sound and unbelievable build quality. The goal was to create a line of passive DJ speakers that were double as good as the competition but cost half as much.

The Rockville RSG-12.28 speaker system features two high quality 12" low frequency woofers with three electronic, high-efficiency piezo bullet tweeters and one high efficiency piezo compression horn tweeter to provide a true full-range of sound. This speaker produces an incredible amount of power. 2000 Watts peak, 1500 Watts Program Power, and 1000 Watts RMS Power. With 60 Oz magnets, you can be sure these speakers will produce the power you expect out of them.

Constructed using thicker than standard, high-quality, high-density materials our cabinets are strong and rigid yet light weight enough to make travel and set-up a breeze. Built-in ergonomic, recessed handles give these speakers additional carrying ease, for all you DJ's who travel from party to party. The sturdy custom-molded steel grill protects the drivers combined with corner protectors, pre-mounted rubber isolating feet and durable, aviation grade black carpet make our speaker cabinets tough enough to withstand every day abuse.

Engineered from the ground up, the tapered trapezoidal shape, produces wide, clear sound dispersion that will reproduce your program source materials loudly, with accuracy and musical transparency.

Multiple inputs, typically found on high-end speakers are standard equipment on the Rockville RSG-12.28. Two input connectors, ¼? IN/OUT and speakON connection make the Rockville RSG-12.28 able to integrate in to any existing amplification system.

So if you are looking for a top-of-the-line quality DJ speaker that is rugged, can handle lots of power and sounds incredible, then the Rockville RSG-12.28 has got you covered. Built-to-last, these speakers are protected by a full one year warranty.
Features:
Rockville RSG-12.28 Carpeted Passive Loudspeaker
(2) 12? Pro Audio Woofer
(3) Piezo 3" Bullet Tweeters
(1) High Efficiency Piezo Compression Horn
RMS Power: 1000 Watts
Program Power: 1500 Watts
Peak Power: 2000 Watts
2? High Temperature Aluminum Voice Coil
8-Ohm Impedance
Sensitivity: 102dB @ 1w/1m
Frequency Response: 40Hz - 22 kHz
SpeakON Input connection
¼? In/Out connections (Parallel)
Dimensions: (15.4+8.6)x12.5x40.5in
Weight: 44Lbs
Rubber Isolating Feet
Construction: Top quality MDF - Stapled, Bonded & Braced
About Rockville Quality Control Procedures:
The Rockville brand stands for Quality, Innovation and Value. All Rockville products go through the most rigorous quality control standards in the industry. Products go through months of extensive testing before they reach your hands. All user functions are tested and all internal components are tested for quality. Rockville makes products that are virtually un-breakable! Rockville is one of the only brands in its class to test every concept model for weeks or months before starting production. Once production begins, Rockville sends product engineers to their factory to quality control every line of production. During production every product is tested and on top of that Rockville goes the extra mile and has their high level product engineers do an additional quality control. They test a certain percentage of all products from the production line a second time to ensure that the quality meets their vigorous standards, and to make sure that there is never a batch of products with even a slight problem. All Rockville monitors are backed with a full one year warranty, though it is unlikely that you will need to use it.
Return Policy
AudioSavings Return Policy:
At Audiosavings, we strongly believe in customer satisfaction and therefore offer free return shipping within 30 days of purchase on all items returned to us within the continental USA.
Prior to returning merchandise, contact us and we will give you a return authorization # and a return label.
You may return this item for a refund within 30 DAYS of purchase.
Warranty Repair/Exchange Period: 1 YEAR
If your item is defective or you want to return it for any reason within the first 30 days of when it was delivered to you; you have the following options:
We will send you a

pre-paid shipping label

to replace the item for a brand new one.
We will send you a

pre-paid shipping label

to exchange the item for another item of your choice. If the item you chose is more or less money we will work out the price difference with you.
If you are returning a working item in used condition for a refund there will be a 20% used item fee deducted from your refund. All replacements and exchanges are free.
Replacement/Processing Time:
Your replacement or refund will process within 3-5 business days of when we receive the item.
Please note items with physical damage un-related to shipping are not covered under warranty. This includes blown speakers with burned voice coils. Registered software cannot be returned.
You MUST notify us within 48 hours if you receive an item that was damaged during shipping.
Process for returning items
Please email us with your eBay user ID, Item code / model #, Condition of the item, and the reason for your return. Please also indicate whether you would like a replacement, an exchange, or a refund. We will supply you with a reference number (RMA #) to put on the package which will ensure quick processing of your return. All returns require a RMA# to be returned back to our facility.
Item Code: (2) RSG12.28
/ / / /
Copyright © 2016 , All rights reserved. |
Fast shipping
Free shipping on all orders in the USA.
AMAZING SUPPORT
Our amazing support team is here to help.
30 DAYS RETURN
Simply return it within 30 days for an exchange.
100% SECURE PAYMENT
We ensure secure payment and accept Stripe, Visa, Mastercard, Amex & Paypal.